We've all feared being stuck without help. Whether you're with or without your vehicle, you'll always want to know that you're relying on more than just a mobile phone to alert those who need to know about your location or situation. We've taken a look at personal alert devices to help you decide what suits you. Given that we are looking at personal location devices that are easy to carry, we have not included EPIRBS which are more suitable for vessel and vehicle location.
The key consideration is deciding who you need to alert when looking at emergency devices. Not every situation requires a distress signal and in other cases where time is critical, you'll want to skip notifying loved ones and get straight through to emergency services.
When You Want to Alert Authorities and You Want to Carry the Device on You:
A PLB (Personal Locator Beacon) operates on a similar principle as that of an EPIRB (though it doesn't have to meet the same strict buoyancy requirements in water as an EPIRB does). The device is made to be used by persons, not attached to vehicles. Typically, these devices are accurate to within 100 metres with a clear line of sight to the sky. The devices use GPS satellites and search channels to send a distress signal to emergency services.
These can be very handy for walking, trail riding, off-road driving and water activities (Note: these do not substitute an EPIRB on marine vessels, they can be used on a person in conjunction with the EPIRB on the vessel).
Make sure that the device meets Australian and New Zealand safety standards AS/NZS 4280.1 and AS/NZS 4280.2. The Australian Maritime Safety Authority (AMSA) note the following models as being compliant (other models may be current that do not appear on this certified list):


Image source: Australian Maratime Safety Authority – Image URL: http://beacons.amsa.gov.au/about/beacon-types.asp
When You Want the Flexibility of Updating or Alerting Important Contacts in Non-life-threatening Situations But Also Have Emergency SOS Capability:
There are devices such as the SPOT GEN3®, which allow you to send "I'm ok" text messages or alert important contacts as well as contact an emergency response team that can, in turn, alert the Australian Maritime Safety Authority (AMSA), who are alerted when a PLB signal is raised.
These devices are great for adding in more communication types, as not every situation is life threatening. They are also reassuring for contacts who want to look up your location and "check up" on you, however it is critical to note that the emergency feature is dependent on subscription services and alert a private emergency coordination centre, unlike the PLB which directly sends a distress signal to the AMSA.
The SPOT GEN3 is not the only device on the market that provides urgent alerts, however it has been noted due to its popularity.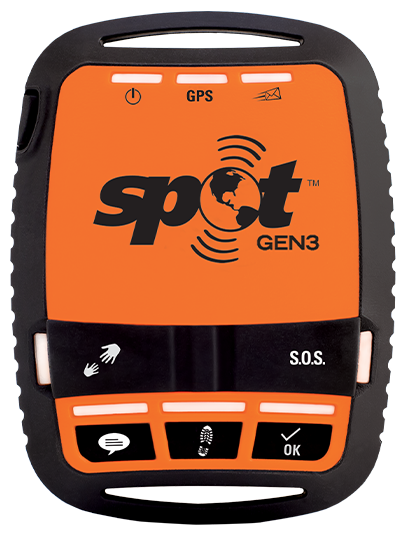 Image Source: SPOT LLC, Image URL:
https://www.findmespot.com/SPOT/media/Products/SPOT-Gen3/SPOT-Gen3.png?ext=.png
For more information on emergency beacons, visit the Australian Maritime Safety Authority website at http://beacons.amsa.gov.au/
For pricing on PLB or similar devices, contact your local 4WD, Camping or Adventure specialist and always shop according to Australian and New Zealand Safety Standards.
This information is intended as a general guide and does not intend to make recommendations based on your specific needs or situation.